Disadvantages Of Corian Worktops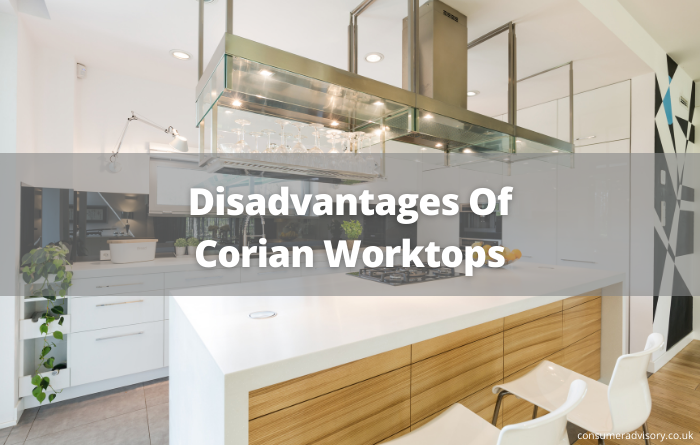 Corian was first used in homes back in the 1970s. Although it has gained popularity over the years, there are still disadvantages of Corian worktops that homeowners need to know before they decide on this for their kitchen worksurface.
In this article, we'll talk you through the pros and cons of Corian worktops, helping you to make the right decision for your new kitchen.
Cons Of Corian Worktops
Whilst Corian worktops are highly popular, there are some disadvantages of this type of worktop that you should be aware of before you decide to make the purchase.
Let's take a look at the disadvantages of Corian worktops.
1. It will scratch easily
As with any form of hard worktop, you will need to take precautions in order to protect it.
Whilst Corian is stain-resistant, it can still be scratched by sharp objects, even when used with an undermount sink.
To avoid this, you should always use a chopping board when preparing food. It is also recommended that you place hot pans on trivets or heat-resistant mats before placing them on the worktop.
2. It can chip easily
As already mentioned, Corian can be damaged very easily by sharp objects.
Any knocks or accidental collisions with the worktop will cause chips to appear in the surface of this form of worktop that are not always easy to repair. A professional may need to be called out in order to repair the damage.
3. It isn't advised for very high traffic areas
Corian worktops are not ideal for areas where there is a great deal of heavy use, such as commercial kitchens or workstations in busy offices.
Although these surfaces are tough and resistant to most stains, they will not stand up well in areas that are used all the time by lots of people.
4. It can become marked easily
Corian worktops do not stand up well to heat and may become marked and stained when exposed to hot pans and cooking equipment.
If you like to cook a lot, this could potentially be an issue in your home kitchen.
5. It can be more expensive than other forms of worktop
Whilst Corian isn't necessarily the most expensive form of worktop you could choose, it is certainly not cheap.
Corian worktops are more expensive than laminate surfaces, for example. If you are on a budget when it comes to choosing your new kitchen worksurfaces, Corian may not be the best option for you.
6. It could become discoloured over time
Corian worktops can lose their colour and shine as they age and begin to show signs of wear. The surface will also chip and scratch much more easily as it begins to look tired and worn out.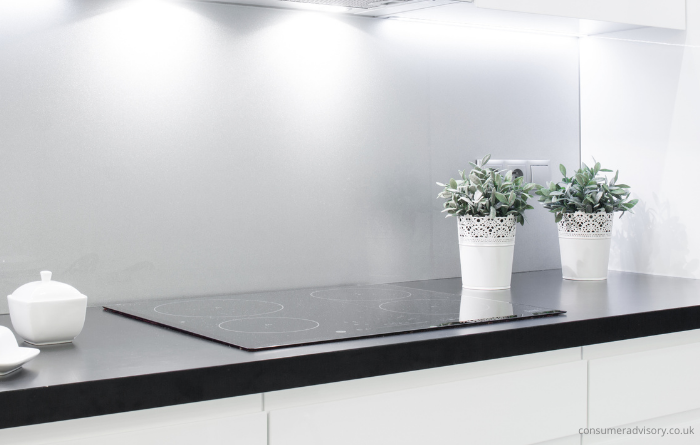 Advantages Of Corian Worktops
Although there are some disadvantages of Corian worktops, there are also plenty of benefits of choosing this type of work surface for your new kitchen. Let's take a look at some of the advantages of Corian worktops.
1. It is highly customisable
You can use a specialist company to create the perfect worktop surface for your kitchen in any size or shape. For example, you can choose custom-shaped edges or different colours to make your Corian worktops stand out.
2. It is stain-resistant
Although they may not be as durable as quartz, Corian worktops are resistant to burns, stains and heat damage when compared to natural stone or laminate, which makes them a great choice for busy kitchens.
3. It is easy to clean and maintain
Corian is stain-resistant and non-porous, so it can be easily cleaned with the right products. It doesn't absorb liquids, meaning that any stains will not penetrate into the surface of your Corian worktops.
Cleaning your Corian kitchen is very easy and you don't need to worry about leaving watermarks or streaks on the surface after cleaning, unlike other worktop surfaces such as laminate.
4. It looks stylish and modern
Corian offers a modern appearance that is sleek and stylish at the same time. The worktop looks sleek and stylish in any kitchen, especially when combined with other modern fittings such as stainless steel appliances.
Corian worksurfaces create a sleek and clean appearance that is popular among homeowners who like the look of contemporary design.
5. It can be moulded into any shape and size
Corian worktops are highly customisable, especially if you choose to have them created by a specialist company. You can get Corian worktops in any shape or size because it is easily moulded into shape. This means that you won't need to have any unsightly joins in your new worktop, enhancing the aesthetics.
How Long Do Corian Worktops Last?
You'll usually find that Corian countertops are supplied with a 10 year warranty. However, in practice, you'll find that most Corian worktops will last for around 30 years, thanks to their high durability.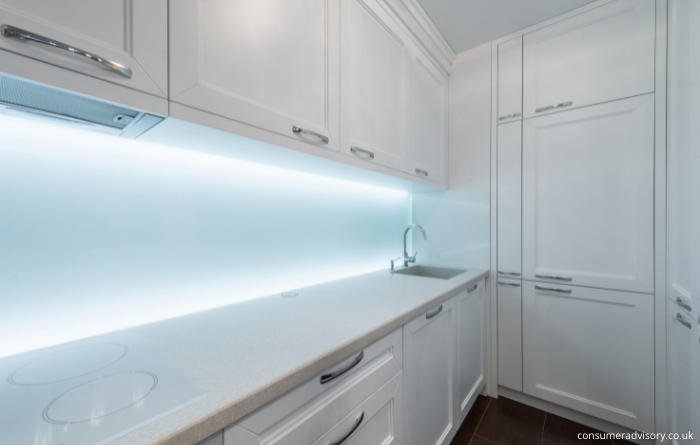 How To Clean Corian Worktop
Because Corian is resistant to staining, you can clean it easily with general cleaning products.
To clean your Corian worktops, simply use hot soapy water and a soft sponge or cloth to wipe down the surface. You can also use bleach or other specialist cleaners if necessary.
Although Corian worksurfaces are easy to maintain, you should always take care when using them in your kitchen. For example, you shouldn't cut directly on the surface of your Corian worktops because they are prone to scratching and marking. You should also avoid dragging sharp objects or utensils across the surface of your Corian worktops because this could cause damage too.
What Are The Problems With Corian Countertops?
Although Corian worktops are a popular choice thanks to their high durability and wide range of customisations, there are some potential issues that you need to be aware of.
Firstly, Corian worktops usually come at a much higher price than other types of countertops. For example, you can have quartz or laminate worktops for a fraction of the price.
Another common problem is that Corian worktops are moderately easy to scratch and dent. Although they are more durable than laminate worktops, most Corian countertops can be easily scratched by sharp objects such as knives. Therefore, you need to avoid dragging sharp objects over the surface of your Corian worktops.
Additionally, you need to be careful when setting hot items on your Corian countertop because it is not heat resistant. For example, placing pans directly on the surface of your Corian worktops could cause discolouration and damage.
However, despite some potential problems, Corian worktops offer excellent value for money and they look great in any kitchen. They are particularly suitable for busy households where the countertop gets a lot of use.
In Summary
Corian is a great choice for kitchen worksurfaces because it is so durable and easy to maintain. With the right care and attention, you can expect your Corian worktops to last for many years to come.
It's important to be aware of both the advantages and disadvantages of Corian worktops, so that you can make an informed decision about whether this is the right type of worktop for your new kitchen.