What Time Do Wetherspoons Stop Serving Breakfast?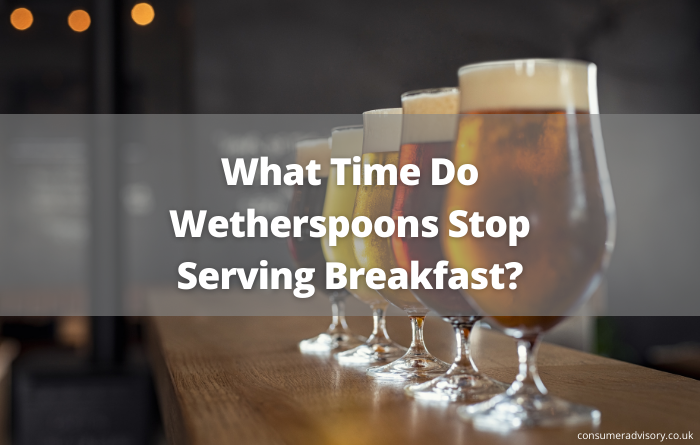 What time do they stop serving breakfast at Wetherspoons? Wetherspoons stop serving breakfast at 11.30am every day. So, if you want to order breakfast from Wetherspoons, you will need to order before 11.30am. After this time, you can still order the All Day Brunch option from the main menu, but the breakfast menu will no longer be available to order from.
Does Wetherspoons Have Breakfast All Day?
If you're a fan of Wetherspoons breakfast, you might be wondering whether you can order breakfast at Wetherspoons all day. Unfortunately, the breakfast menu is only served until 11.30am. After this time, you'll need to order from the main menu.
The good news is that Wetherspoons offers an All Day Brunch option on its main menu, so you can still get your fix of bacon and eggs if you miss the Wetherspoons breakfast.
What Time Does Wetherspoons Open?
Most branches of Wetherspoons open at 8am, and you can begin ordering breakfast from this time. However, we'd always advise checking your local Wetherspoons' opening times on the website before visiting, to avoid disappointment.
What Time Do Wetherspoons Stop Serving Food?
The main menu is available until 11pm every night, so you have plenty of time to order food from Wetherspoons. If you're visiting later in the evening, we'd recommend checking out the bar snacks menu, which has a range of lighter options available from 5pm onwards.
Can I Get a Full English Breakfast at Wetherspoons?
Yes – Wetherspoons serve a full English breakfast option until 11.30am. After this time, you can select the All Day Brunch option from the main menu, which consists of two sausages, bacon, fried eggs, baked beans and chips. There is also a small option of this meal available, as well as a vegetarian option to choose from.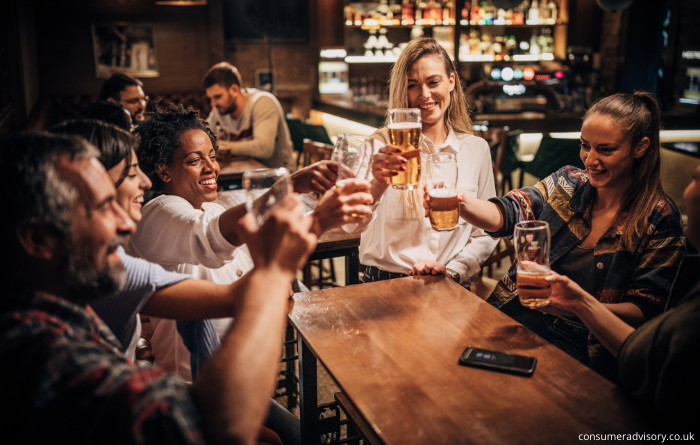 What Time Is Wetherspoons Breakfast?
Wetherspoons breakfast is served from opening time, usually 8am depending on the branch, until 11.30am when the main menu takes over.
What Time Do Wetherspoons Start Serving Alcohol?
Most branches of Wetherspoons begin serving alcohol from 9am, one hour after opening. However, it's best to check with your local branch before travelling, to avoid disappointment.
Why Is Wetherspoons So Cheap?
Wetherspoons is often praised for its cheap prices, and this is because each of its pubs is a free house, rather than being owned by a specific brewery. This means that Wetherspoons can afford to keep their prices low by shopping around, as they are not tied to any specific brewery. This saving can then be passed onto customers. This also means that you can enjoy a range of drinks at Wetherspoons, including draught beers, ciders, wines and spirits.
How Many Wetherspoons In UK?
There are over 1,000 Wetherspoons pubs across the UK, meaning that there's probably one near you. To find your nearest Wetherspoon pub, simply head to the website and use the 'Find a Pub' function. You'll then be able to see all of the pubs in your area, as well as their opening times and contact details.
Can You Book A Table At Wetherspoons?
No – Wetherspoons do not take bookings for tables, as they operate on a first-come, first-served basis. If you're planning on visiting with a large group, we'd recommend arriving early to guarantee yourself a table.
Can You Get Wetherspoons Delivered?
Unfortunately, you cannot yet get Wetherspoons delivered. Perhaps this is a gap in the market, so we'll keep looking out for a Wetherspoons delivery service in the future.
What Time Can Pubs Serve Alcohol In England?
In England, pubs are permitted to serve alcohol throughout the duration of their licensed opening hours. So, the times that an individual pub will be able to serve alcohol to customers will depend on the terms of their licence.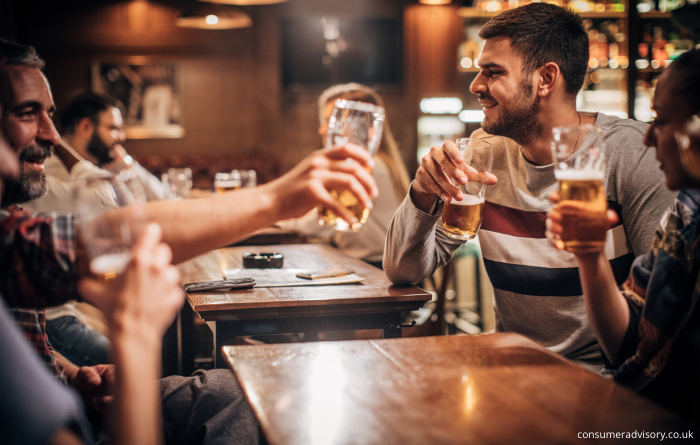 Can You Have A Pint With Breakfast At Wetherspoons?
Yes – Wetherspoons serve alcohol from 9am, so you are able to order a pint with your breakfast if you wish.
Is There A Dress Code At Wetherspoons?
No – there is no dress code at Wetherspoons, so you can visit in whatever clothes you feel comfortable in.
Does Wetherspoons Breakfast Include A Drink?
Wetherspoons breakfast does not include a drink, so you'll need to purchase this separately. You can choose from the full drinks menu, including hot drinks, soft drinks and alcoholic beverages.
How Do Wetherspoons Cook Their Breakfast?
If you are partial to a Wetherspoons breakfast, you might be wondering how this famous breakfast is cooked. The bacon, tomatoes and toast are grilled, whilst the egg is fried. The hash browns are cooked in a deep fat fryer and the sausages are baked in an oven.
Is The Food At Wetherspoons Microwaved?
Contrary to popular belief, the majority of food at Wetherspoons is cooked fresh. Whilst some meals such as a chicken korma are prepared in advance and microwaved when required, other food items such as breakfasts, chips and burgers and cooked fresh in deep fat fryers, ovens or on a grill.
Are Wetherspoons Chips Fried?
Yes, Wetherspoons chips are fried in a deep fat fryer. The potatoes used to make the chips are peeled and then cut into thick wedges before being fried in vegetable oil.
What Oil Do Wetherspoons Use To Cook Their Chips?
Wetherspoons chips are cooked in vegetable oil. This is a blend of rapeseed oil and sunflower oil.
When Was The First Wetherspoons Pub Built?
The first Wetherspoon pub was built in 1979 in Muswell Hill, north London. The company was founded by Tim Martin, who still owns and runs the company today.
Where Was The First Wetherspoons Outside London?
The first Wetherspoon pub outside of London was opened in Cardiff in 1992.
What Is The Biggest Wetherspoons In The UK?
The biggest Wetherspoon pub in the UK is The Reindeer, located in Birmingham. This pub can accommodate up to 1,000 people and covers an area of 9,000 square feet.
When Was The First Wetherspoons Abroad Opened?
The first Wetherspoon pub abroad was opened in Dublin in 2000.
How Many Countries Have Wetherspoons?
Wetherspoon currently operate in nine countries, including the UK, Ireland, Spain, America, Sweden, Denmark, Norway, Germany and Bahrain.
In Summary
If you are a big fan of the mighty Wetherspoons breakfast, you might be wondering 'what time do Wetherspoons stop serving breakfast?'. In this article, we have answered this question, as well as exploring some of the most commonly asked questions about this popular pub chain. Let us know your experiences of Wetherspoons breakfasts!