Why is IKEA Delivery so Expensive?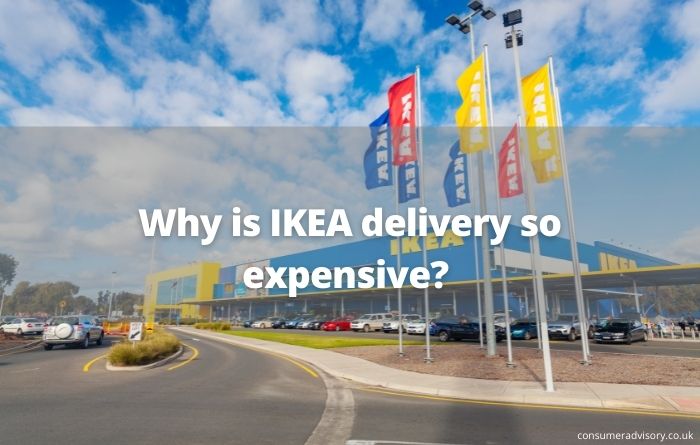 Why is IKEA delivery so expensive? Ikea delivery is expensive if you are trying to ship a single purchase, the weight and distance from the warehouse to your address will also factor into this. The lowest rate for one piece of furniture according to the IKEAS's website costs £40 ($53 or €47) but delivery options here in the UK start at just £2. These prices did not change during the Covid-19 pandemic.
How much do IKEA charge for delivery? (UK)
The fees below are taken from the delivery section of the IKEA UK website:
Parcel delivery options – from £2
Delivery to external DPD pick up point – £2
Delivery to your home – from £4*
Small parcel delivery – £4
Medium parcel delivery – £15
Large parcel delivery – £19
*Your delivery cost will be calculated in the shopping bag based on your chosen products. Parcel deliveries are fulfilled by DPD Monday-Sunday.
Large delivery options- from £40
Selected day Delivery – £40 Delivered within 4 – 30 days to your room of choice.
Express Delivery – £50 Delivered within 1 – 3 days to your room of choice.
Please note that for readers who live in the London area "IKEA London Delivery Service via TaskRabbit"
TaskRabbit can also assemble your furniture for you at an additional cost.
Prices will be similar when converted into US dollars or Euros as IKEA is an international store.
Have IKEA's shipping rates gone up during Covid?
They have not gone up during the Covid pandemic, however, IKEA's shipment rates have been raised over time because they have no other option to make them more affordable. Some companies offering free shipping or discounts often factor in the costs associated with shipping or the discounts for it in the product sales price so this is something IKEA does not. IKEA has agreed no further shipping costs will increase its own manufacturing costs, which will incur the total cost for the consumer.
How much does it cost to have furniture delivered by IKEA?
I did some research and I put this to the test for this article.
I decided I wanted a wardrobe for my daughter's bedroom. According to the information above (found on the IKEA website), this should cost £50 if I choose express delivery.
Here is the screenshot of my shopping cart during checkout with the shipping address starred out for privacy reasons – using the closes IKEA store to me.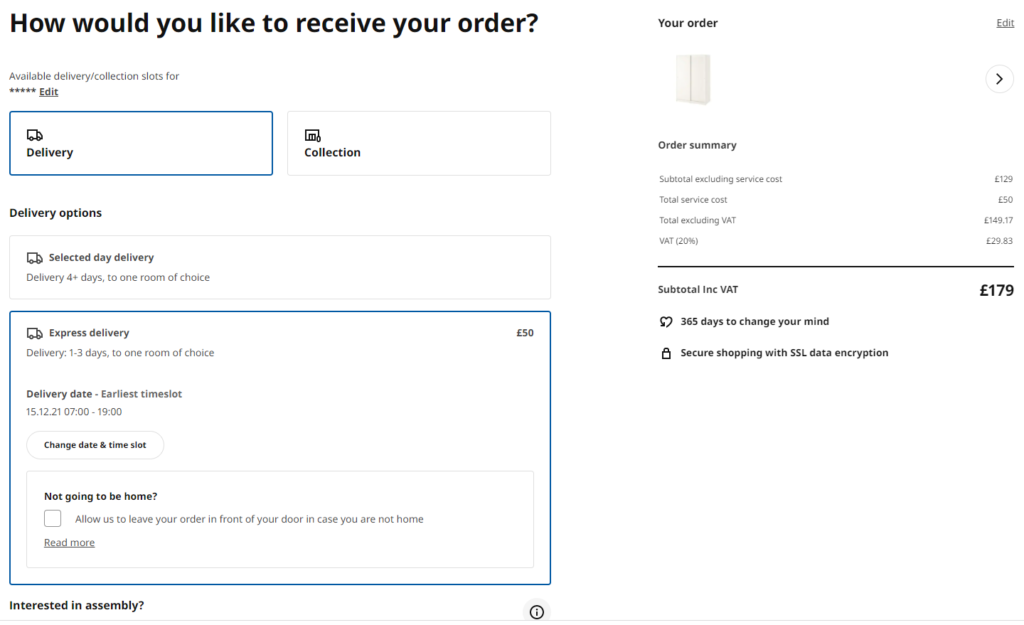 As you can see it is indeed £50. The wardrobe is £129 so in this instance yes the delivery is expensive.
I decided to add a second wardrobe (exactly the same one just for illustration purposes) and now the total cost of the wardrobes comes to £298 (with vat) and only £40 delivery charge: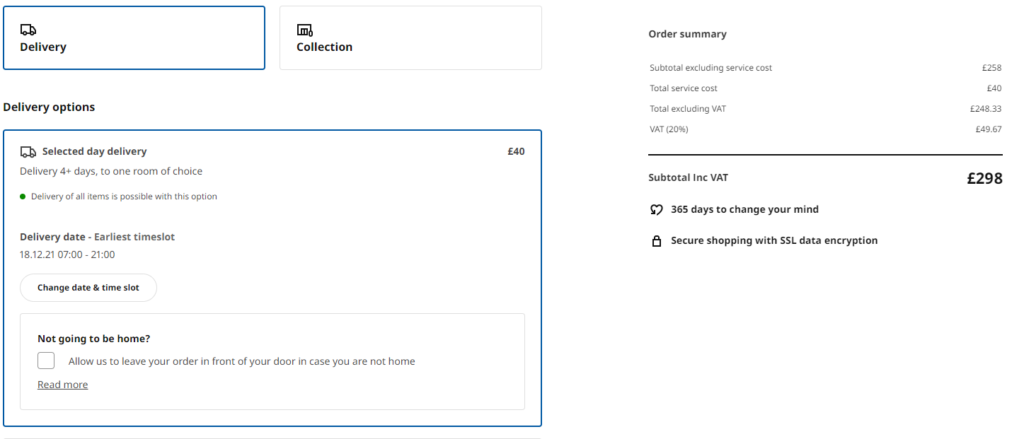 I then added a THIRD item (exactly the same product) and as the image below shows, the total cost (inclusive of vat) comes to £427 and only a £40 IKEA shipping cost.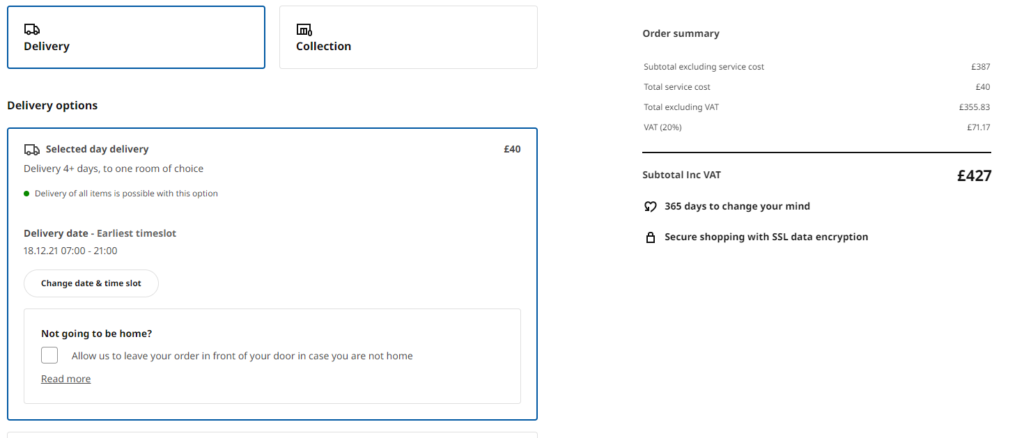 So, as you can see, adding more items to your shopping basket suddenly puts the question of whether IKEA delivery is expensive up for debate.
I cannot see on the IKEA website anywhere that states whether this £40 delivery is capped or not but I have read on various American forums that IKEA USA cap their delivery charge at $40.
How can I get cheaper delivery from IKEA?
To get cheaper delivery from IKEA you need to buy more items which will then bring the price down. They also offer discounts for buying their furniture together.
IKEA offers free collection point options in some areas for its customers this means that they do not need to pay £2 or £4 for collection by DPD.
This is something to check if it is available in your area.
TaskRabbit can also assemble your furniture for you at an additional cost.
Prices will be similar when converted into US dollars or Euros as IKEA is an international store.
So, the answer to "How much does it cost to have furniture delivered by IKEA?" is not as straightforward as one might think. It depends on what you buy, how much you buy and where in the world you live. In some cases, delivery can be expensive but in others it can be very reasonable.
Are there other ways I can reduce the delivery cost from IKEA?
One way is not to use the standard DPD delivery service (this is handled by TaskRabbit if you are in the London area).
A simple search on Facebook marketplace or local directories for "man and van" will present you with a number of options. Just be mindful though that there is a limit of £40 for your delivery from IKEA so it might make sense to only use a third party delivery company if you are purchasing single items like in the first example shown above.
Also, be aware of what may happen if the item is damaged during transit and how you then proceed to make a claim against the delivery driver.
Click and Collect
The other option is to use the IKEA click and collect service. If your own car is not big enough then you could hire a van by the hour and there are plenty of services that will do this. Again, you will want to weigh up whether it is worth it to save on delivery costs but have to pay for the van hire and petrol.
You may also be able to hire a hatchback taxi or airport transfer service van to help you get this done. Don't rule out the help from any friends and family who might have a van either!
IKEA want you to shop instore
You have to remember that IKEA is a store designed in such a way that they want you to shop in their store. You browse the store layout and then end up in the warehouse section where you pick the bulkier items off the shelving yourself and then arrange to take this home.
The pandemic changed this. With stores closing throughout the UK it became a necessity for IKEA to change or face closure.
With people no longer able to shop in-store, the online side of the business grew and home deliveries became a more prominent feature of the business. Many related companies such as Costco did the same thing.
Summary
I've used examples within this article to show you that IKEA is expensive if you are buying a single item. There is a low delivery fee for smaller items but the overall delivery cost is reduced the more items you end up buying.
You can also save money by using the click and collect service or finding a cheaper third-party delivery company. Alternatively, if you have a car big enough, you could hire a van and do the job yourself. Just be mindful of the £40 delivery cost cap that IKEA has in place.