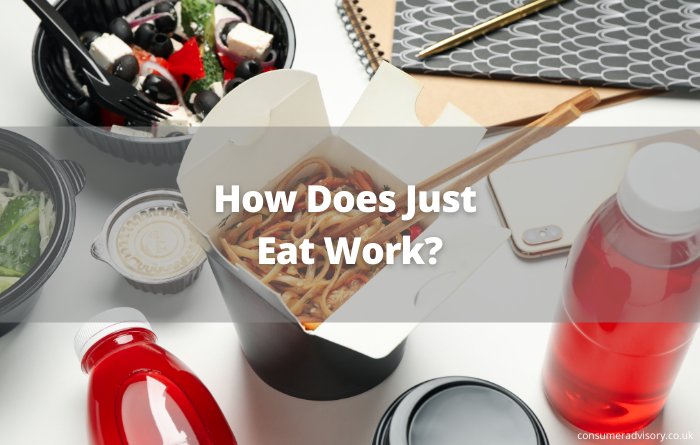 How does Just Eat work? Customers place orders for takeaway food through the Just Eat website or app, which is then delivered by the chosen restaurant. Just Eat takes commission for each order from the restaurant for providing this service.
In this article, we'll take a closer look at exactly how Just Eat works for both customers and restaurants, as well as answering some of the most commonly asked questions.
What Is Just Eat?
Just Eat is one of the biggest online food delivery marketplaces in the world that allows consumers to find and order takeout or restaurant-to-home delivery that's available near them. The company has an official website, JustEat.co.uk , where users can visit to search for restaurants in their area, check out menus and deals offered by each restaurant, review the quality of food and service offered by each restaurant, place an order, track their order's progress to its final destination, split bills between friends/ family members and pay for it.
Just Eat was founded in 2001 in London and now operates across the globe. The company's biggest markets are currently Canada, Denmark, France, India, Ireland, Italy, Mexico, the Netherlands and the UK.
Just Eat Ordering Process
The Just Eat ordering process works like this:
1) Find the restaurant of your choice on the Just Eat website or app. Select your desired menu items, along with any extra options you may want (such as different sauces), and how many people are eating with you. If you know exactly what you want to eat, it's also possible to type it directly into the search bar.
2) If you'd just like a quick takeaway from your favourite local restaurant, choose the "Order Now" option. You'll then be asked to select which restaurant you want from those available near you, as well as how many people are eating with you and what drinks you'd like with your meal. You can then either pay for your order straight away via the Just Eat website, or choose to pay by cash when you collect your food.
3) Once you've selected all desired menu items, proceed through the checkout process and place your order. You can then either pay for your order straight away via the Just Eat website, or choose to pay by cash when you collect your food.
4) Next you'll find your order summary, including the total cost of the food ordered, delivery fee (if any), tips for drivers/ cyclists/ etc., any special instructions or requests you may have included about your order.
5) Finally there's a confirmation page and you're all done!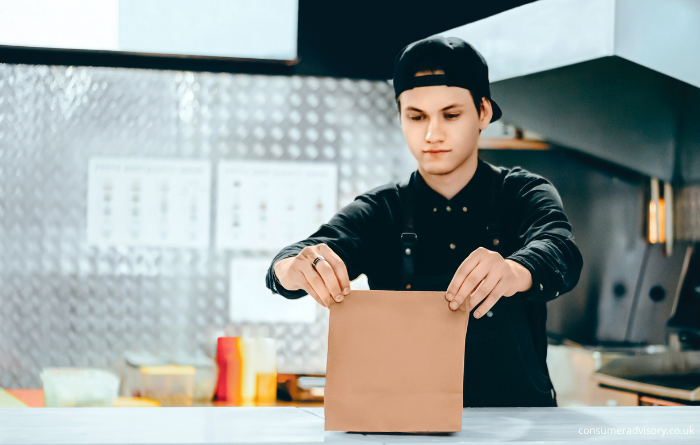 How Much Does It Cost To Use Just Eat?
Just Eat is free for customers to download and order takeaway food through. The only cost of using Just Eat for customers is a service charge that is added to each order. This service charge is calculated as 5% of the order value, with a minimum charge of 50p per order. The amount you can be charged as a service fee is capped at £1.99, so you should never be charged more than this.
It's restaurants that pay the price for trading through Just Eat. For every order, restaurants are charged a commission fee of 14% per order, plus a joining fee of £295 plus VAT. However, many restaurants choose to accept these fees as being on the platform reduces their marketing costs and increases their customer base.
How Much Does Just Eat Charge For Delivery?
How much you'll pay to have your food delivered from an independent restaurant through Just Eat will depend on how far away from the restaurant you live. Whilst some restaurants use Just Eat drivers to deliver orders, the majority of orders from Just Eat are delivered by the restaurant's own drivers. For this reason, the restaurant decides how much to charge for delivery.
You'll be able to see the delivery charge for each restaurant before you decide to order food, so you'll be able to make sure you're happy with the fee before ordering.
How Do You Pay On Just Eat?
The most common method of payment is using a cashless system, where payments are made through the Just Eat website or app rather than with physical cash. The paying process itself differs slightly depending on whether you've chosen to pay for your order now, or whether you want to pay by cash at your local restaurant when you collect your food.
If You Pay Immediately
When it comes to paying immediately, Just Eat accepts payments via MasterCard, Visa and Maestro cards, as well as Google Pay, Apple Pay and PayPal. Again, your payment method will depend on what works best for you and which card you've got on you at the time.
If You Pay At The Restaurant
If you choose to pay by cash at the restaurant, you'll need to hand over payment to the restaurant or the delivery driver before you are given your food.
Do You Tip Just Eat Drivers?
As with anything, the decision to tip a Just Eat driver rests with you, as the customer. If you have received good service, you may decide to tip the driver with cash. However, if the service has not been up to scratch, you may choose not to offer a tip. The decision is completely up to you!
Is Just Eat More Expensive Than Ordering Direct?
Just Eat offers a quick and easy way to order a takeaway, allowing you to browse the menus from a range of local restaurants before making the choice to order. So, do you need to pay a premium for this service, or is the price the same as ordering directly from the restaurant?
The fact is that the fee you pay on Just Eat should be the same as if you ordered from the restaurant directly. In fact, Just Eat has a price promise in which they promise to reimburse you twice the difference if the things are advertised by the restaurant for less than what was charged by Just Eat.
How Long Does Delivery Take?
Just Eat doesn't have a minimum delivery time, so you can expect to wait as long as it takes the restaurant to make your food, which could be anything from 15 minutes to an hour or more. In order to reduce waiting times for you and the restaurant, Just Eat allow restaurants manage their availability on Just Eat. This means they can manage their restaurant's status on Just Eat and let you know when it will be delivered.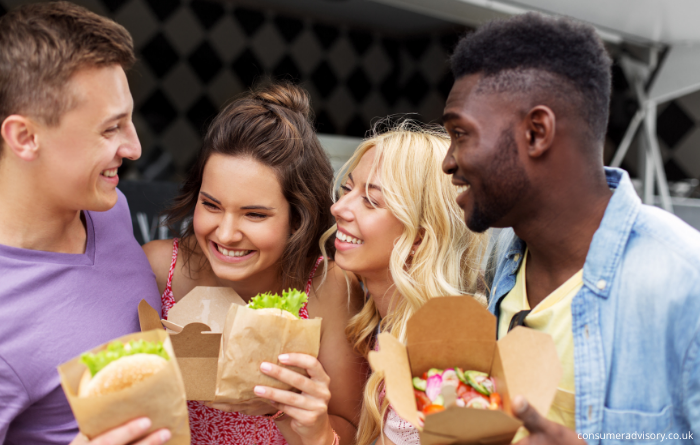 Is There A Minimum Spend?
If you're ordering from a high street chain like Wagamamas, Nando's or Prezzo, there is no minimum spend required if you choose to pay by cash in store. However, if you're ordering from an independent restaurant that doesn't have a 3rd party payment system, you may be required to spend over a minimum amount to qualify for delivery.
Does Just Eat Deliver?
Yes! The Just Eat website lists all the local restaurants by geographical location (i.e. areas of town or postcodes) so you can make sure you're not ordering food further than you need to. Just select your restaurant and choose the food you like, like in any other takeaway or delivery menu. You can even use the handy filters to search for the right type of restaurant (i.e. Asian, Chinese, Italian, etc.) to suit what you fancy eating!
In Summary
Just Eat is a great way to order takeaway food from local restaurants. The Just Eat business model involves working with various partner restaurants across the UK (and even the globe) to provide customers with the ultimate convenience. You no longer need to hang onto every takeaway menu you find – you can simply browse the menus of local independent restaurants to find the perfect takeaway. Whether you love your local kebab shop or the posh Italian across town, Just Eat offers something for everyone.
In this article, we've answered the question 'how does Just Eat' work, as well as answering some of the most commonly asked questions about Just Eat.